Corporate Uniform Collections Designed for You
Helping you tackle your challenges through the personalization of corporate wear and helping you achieve your environmental goals is our mission. The process begins with the analysis of your brand image by our experts. Indeed, by understanding your needs and expectations, and by combining comfort and design, we create the perfect clothes for you and your employees. In addition, with the superior technical properties of our fabrics, you ensure the satisfaction of your employees as well as the durability of your corporate uniforms.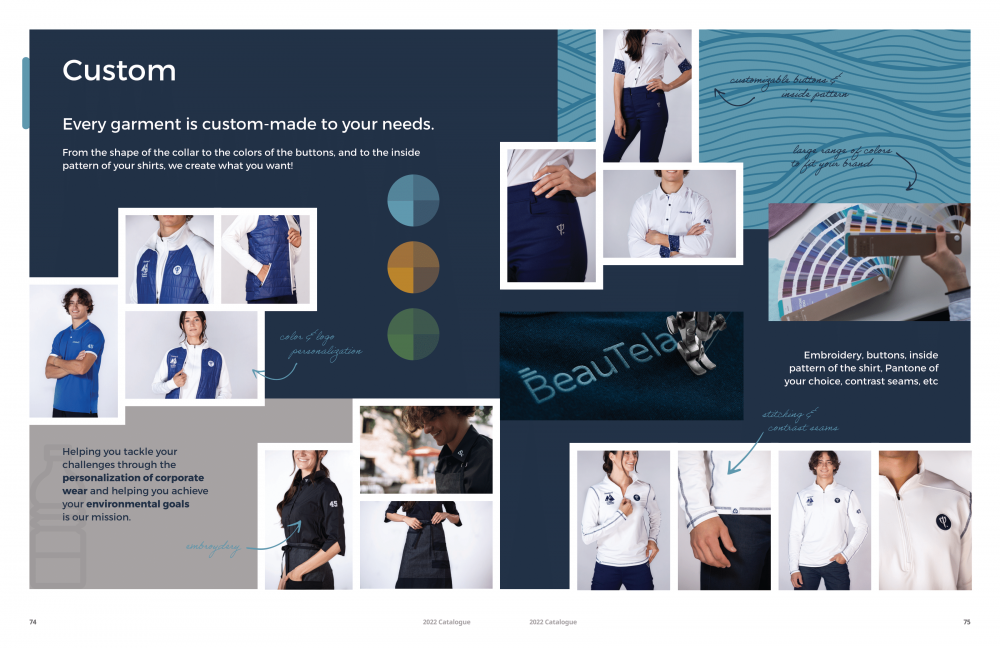 Every garment is custom made to your needs. From the shape of the collar to the colors of the bottons, and to the inside patern of your shirts, we create what you want!
Find inspiration through our previous projects No matter your industry, we have what you need. Find inspiration through our previous designs. If you need more, we will be happy to sit with you and your team to create examples and designs to kick start your creativity.
Controling the whole production process internally alows us to deliver on time, every time, and control the quality of each one of your products. On top of being eco-friendly, our garments are high quality and we take pride in the products create.
What you need to know before starting your project. Our minimum quantity required is 500 per style per color. Lead time to create the first garments is approximately 6 months, which includes shipping. The following orders can be shipped within 6 to 8 weeks.